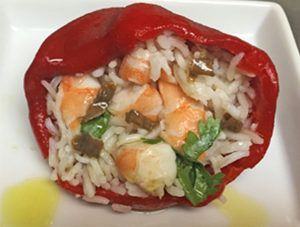 PEPPERS MORRONES BAJAMAR FILLED WITH RICE SALAD.
In summer, they want light dishes that are easy to prepare. Not to abuse salads, here we propose you a great alternative.
Ingredients 2 People
1 jar of red bell morron pepper from the Ebro Valley, Bajamar

Cooked prawns (4 units of large or more if they are smaller)
Preparation
Cook the rice and when it is cooked, cool and set aside.

Chop the sweet onion (two tablespoons).

Chop the prawns and anchovies.

Fill the peppers and enjoy !.