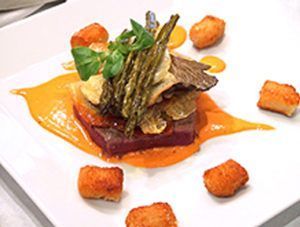 WITH VEGETAL CROWN OF PIQUILLO WITH GARLIC SCENT CREAM AND FALSE FRIED CRUMBS OF RONCAL CHEESE.
Ingredients 4 pax
1 can of Bajamar piquillo peppers

1 jar of Bajamar green asparagus
Preparation
Preheat the oven at 180º.

Cut in thin slices the potatoes.

Cover the bottom of two oven trays with a film of olive oil, in one of them place the potatoes, add salt and minced garlic and a little more of olive oil. In the other place the wild mushrooms and the green asparagus, add salt and a little olive oil. Let them cook for 15 or 20 minutes at 180º, till everything has turn golden.

Meanwhile in a pan, fry two or three minced cloves of garlic, add the piquillo in pieces (5 or 6) and let them cook covered medium flame. When they have reduced a little, add the cream and some salt. Let them cook 5 more minutes. Blend all till you get a thin cream.

Cut cubes of Roncal cheese, dip them in batter with egg and bread crumbs, and fry them in very hot olive oil.

Cook the sirloin to taste.

In a dish, pour some cream, place the sirloin on it, cover the sirloin with a layer of potatoes, then the wild mushrooms, another layer of potatoes, and top it with the green asparagus. Decorate with the fried Roncal cubes.