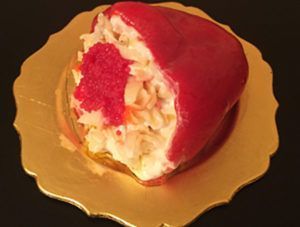 MORRON BELL PEPPERS STUFFED WITH CHEESE CREAM WITH CRAB AND FISH ROE.
In summer, light dishes are preferred, better if they are easy to prepare. We propose you a great alternative to salads.
Ingredients 2 People
1  jar of red bell morron pepper from the Ebro Valley, Bajamar

1 can of crabmeat or 6 surimi bars

Cream cheese or mascarpone or cream of skimmed cheese (sold in tubs) for a lighter version
Preparation
Chop the crab (or in a more inexpensive version the crab sticks).

Mix with cream cheese, Philadelphia type, mascarpone, or with light cream cheese.

Fill the peppers, and top with a teaspoon of fish roe and a drizzle of olive oil and that's it!